Only have three 4x6 photos for a layout? Just cut some patterned paper to 4x6 to use as a title-block, and recycle the tried and true
four-photo layout
. The best-kept secret in scrapbooking is that there's no shame in using the same design over and over and over, as long as it still makes you happy. As long as the photos keep changing, the pages will look different. And if you're working on a themed project, sometimes it makes more sense to keep certain aspects (design, color, pattern, etc.) consistent to keep it feeling unified.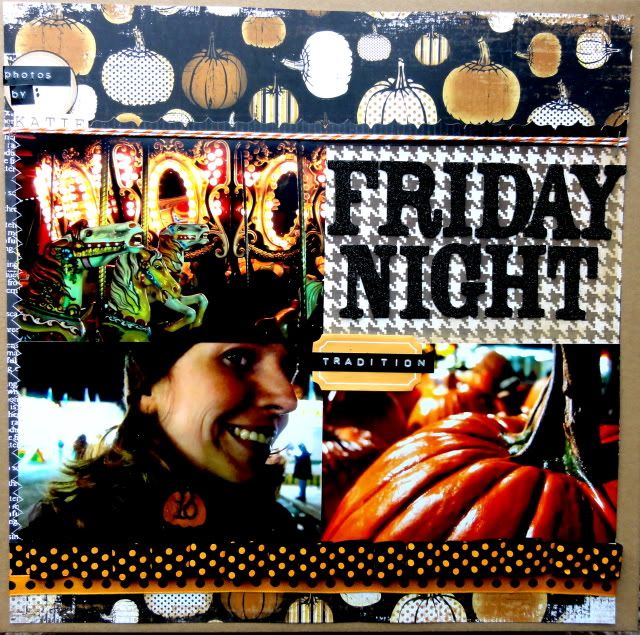 Figuring out where to put
Katie
's
beautiful
photos in this one was easy. It always feels more natural to place photos so that the subject is looking
into
the page rather than off of it, because it helps to lead the viewer's eye across the page. Balance-wise, the off-center pumpkin just seemed to beg to be put on the opposite side, and the white space in that photo became a great spot for extending the title.
Since you can't really see it from the full page view, here's a shot of the pleated ribbon at the bottom of the page. I have a HUGE stash of ribbon that I'm always using to stretch across pages to create quick and easy borders, and this is a super simple way to take it up an extra notch. Just adhere the end of the ribbon to the page and pleat the ribbon across the page, securing each pleat with a
glue dot
as you go.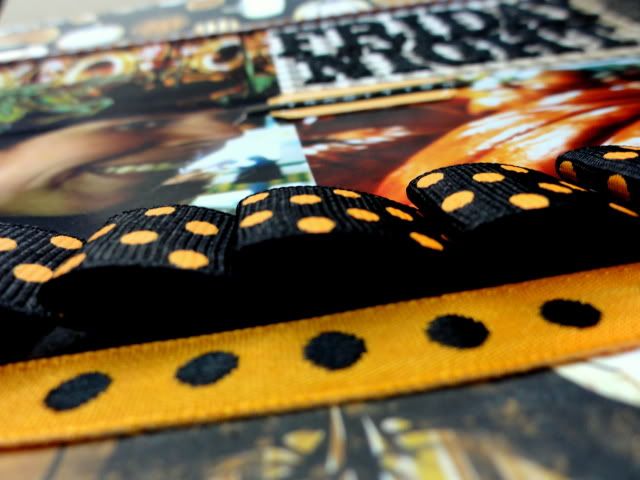 And since I'm so grateful to her for getting the only picture of the special "10-Year" pin I made for my friends Dayna and Justin for their 10th Pumpkin Show AND for letting me use her label maker again without asking, I wanted to give Katie a rightful photo credit in my album: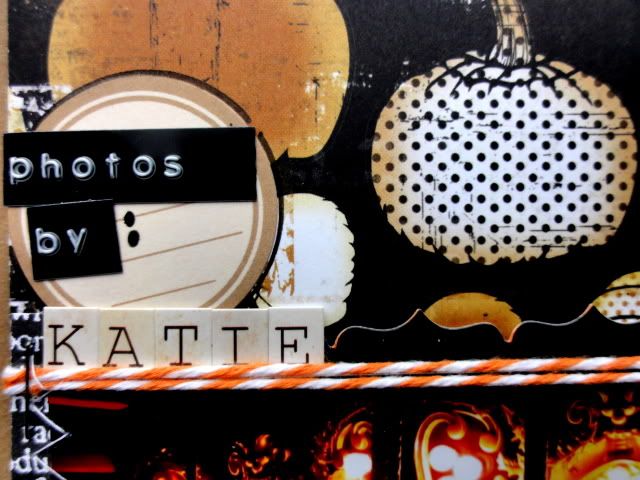 Supplies Used:
Patterned Paper: My Mind's Eye, DCWV
Ribbon:: American Crafts
Twine: My Mind's Eye
Border Sticker: Reminisce
Label Stickers: Hampton Arts, October Afternoon
Chipboard Letters: Colorbok
Letter Stickers: Authentique
Label Maker: Dymo