I promise these double-page layouts line up properly in real life. They really do!
Just about every year at the Pumpkin Show, some little shop or booth is selling these laser die cut titles for the event, and I can't keep myself from buying them, even if they aren't my style. They're different every time, but something about them always just feels kitschy and somehow reminiscent of the whole experience, so they're sprinkled throughout my Pumpkin Show albums. The green backing on this particular one was an obscenely bright shade of grass green, so to tone it down and help it match better to the page, I used a
blending too
l to ink it up liberally with Brushed Corduroy
Distress Ink
.
I also couldn't resist this
flocked
pumpkin paper from GCD Studios. Obviously, I have no qualms with being literal on my Pumpkin Show pages.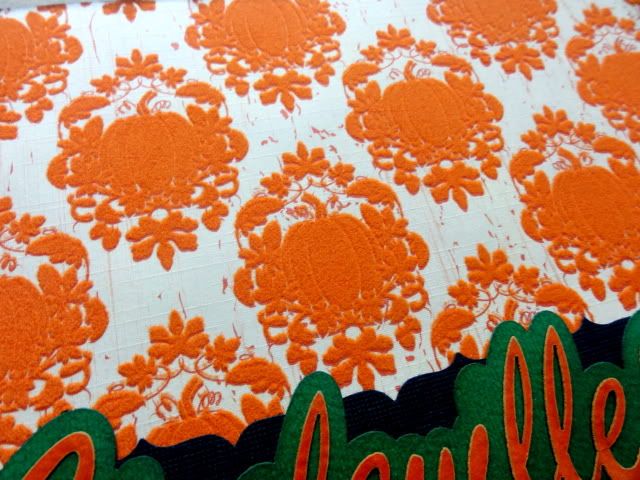 A single vertical photo really throws me off when I'm arranging my pictures, so I turned to
this layout sketch
from Shimelle Laine's 4x6 Photo Love Series to help out. I still don't like how
weighty
the vertical print feels on top of the horizontal ones, but the sketch and project examples helped me come to terms with that and move on.
Supplies Used:
Patterned Paper: GCD Studios, My Mind's Eye
Border Punch: Fiskars
Border Sticker: Reminisce
Gems: Colorbok