I could have made a few more single-page layouts with the rest of these photos from Day 1 of Pumpkin Show 2010, but since they didn't easily separate into discernible categories or themes, I just threw them all together on a double-page spread summing up the rest of the day.
Apparently, I have no clue how to photograph and crop these layouts, because they're supposed to line up.
Even though I have a stash of bright orange and pumpkin-themed papers for this project, I also kept the Die Cuts with a View
Natural Stack
handy, since its shades of brown, tan, white, and black went so well with the fall theme. I love how the vertical stripes in this pattern slice through the thick band of photos. I've done stuff like this before by cutting up a bunch of different papers, but I love how DCWV thought to include a paper with stripes of all its patterns so I wouldn't have to go to any work.
Once again, I let a sticker do all the title-work for me. To make it stand out, I elevated it a bit with some foam dots and stuck on a few gems.
I LOVE this giant scallop-edge border punch, and the cover of a recent Scrapbook Trends magazine inspired me to stick different papers behind each hole in the pattern.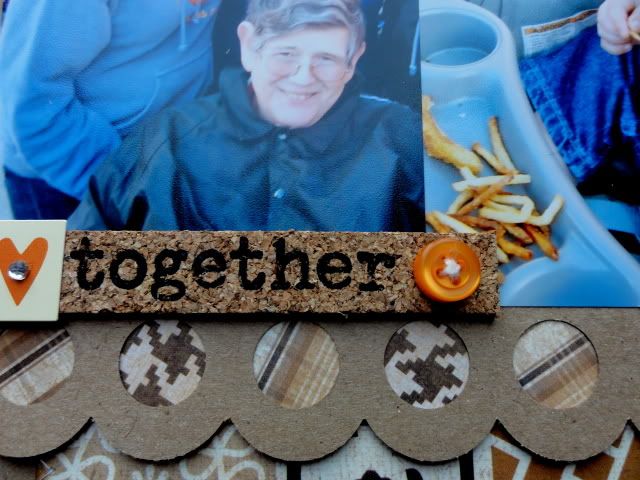 Also, I am
amazed
I finally found a use for these bargain-bin Karen Foster cork word stickers. I've had them for years and almost considered them a lost cause. I guess they just needed the right brown-colored layout and some stickers and buttons to jazz them up. Using old, cheap products and not hating them is such a rush.
Supplies Used:
Patterned Paper: DCWV
Border Punch: EK Success
Stickers: Karen Foster, Heidi Grace, Reminisce, Flair Designs
Ribbon: American Crafts