Amazing! This loosely craft-related blog has actually helped to inspire a crafter to get crafty! Enjoy this post by Kelly, originally posted at
BachelorGirl.net
.
- - -
I don't know what's wrong with me.
I think I might be sick.
Or have some sort of mental disorder.
All I know is, I NEED HELP.
My life has become unmanageable.
I have a problem, and it involves a glue gun.
I CANNOT STOP CRAFTING.
Frankly, I blame
Tracey and Katie
. It all started when they debuted their new blog dedicated to scrapbooking.
Now, I'm not much of a scrapbooker, but I love other crafts, particularly sewing. About the time
Feast on Scraps
came into my life, I realized my mom's birthday was coming up. Giddy at the thought of playing with paper and glue, I went to MarthaStewart.com and found
this
project.
The next thing I knew, I was driving all over Shreveport trying to find a three-inch hole punch.
Having finally procured one, I proudly showed it to Intern Chris. "What the hell is that?" he asked, aghast. "I didn't even know they made three-inch hole punches."
So while he slaved away on the first
Bachelor Girl Weekend Roundup
, he had to do so while listening to the constant ka-thunk…ka-thunk…ka-thunk of my newest toy. The end result was this: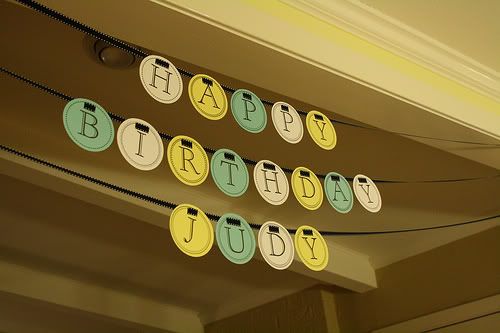 High from the success of that project, I then decided to sew my mother's birthday gift. I used a modified version of a pattern in Amy Karol's book,
Bend the Rules Sewing
. That endeavor culminated in these: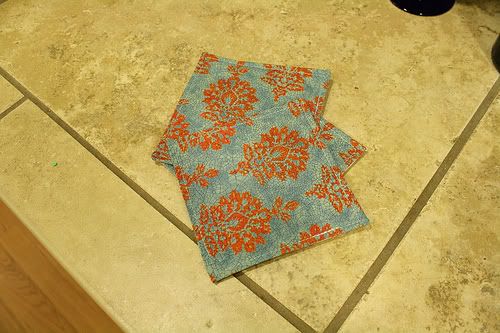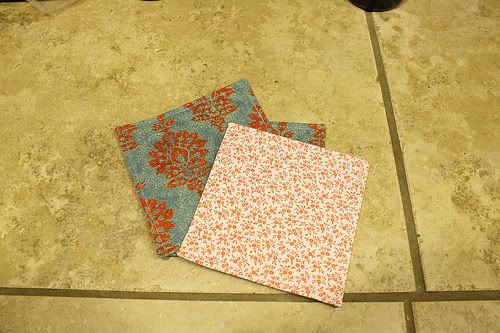 I have since made two more sets using different fabrics and trims.
HELP. ME.
Mom's birthday cake, seen here:
came from the queen of Shreveport crafters,
Megan McIntyre
. Proof that crafting isn't just a waste of time, Megan started her bakery business, Graciecakes, as a way to earn a living from home. Though she's very young (and quite beautiful), Megan has a heart condition that keeps her from being able to work outside her home. So she came up with Graciecakes. Twenty bucks gets you a fancy little homemade cake (which is delicious, by the way) hand-delivered to almost anywhere in the Shreveport-Bossier area.
Like all craft addicts, Megan found herself unable to stop at just cakes, so she also started Glistening Grace, a hairbow-making business. She sells them from her home as well as at Sprout Studio on Line Avenue. Up to now, her bows have been for babies and little girls, but she recently started making headbands for big girls (like me!) as well.
I'll be the proud owner of a Glistening Grace headband sometime in the very near future, but until then, I started thinking back to this gorgeous felt-flower headband Jessica the Web Mistress and I found in an
Anthropologie
store in Boston. One thing led to another, and soon I was making several variations of
these
.
Erik came by to see me yesterday, and he watched in horror as I repeatedly stabbed myself with a needle, trying to sew little pink felt petals together.
"This is out of control," he announced.
In the interest of full disclosure, I should also tell you that I spent Monday afternoon helping my friend
Katie
make
Roman shades
for her dining room windows.
My name is Kelly, and I am a craft addict.
Your letting-go-and-letting-Martha-Stewart
Kel
P.S. Crafted anything good lately? Like all good addicts, I'm searching for my next fix.